Fun Places to Travel in a Jeep Near Brunswick, GA
There aren't many moments in life that compare to that feeling you get when you unstrap the roof of your car, roll the windows down, and drive for miles. Taking a road trip in a Jeep is unlike any other SUV experience. That's why our customers at Chrysler Dodge Jeep Ram Brunswick have selected us as one of the premier Jeep dealerships in Georgia near Spring Bluff and Sterling. Whether you're interested in a new Jeep Wrangler, Cherokee, Grand Cherokee, or newly released Gladiator, we have the Jeep model that's right for any Georgia adventure. Find the right Jeep model for your needs at our Brunswick Jeep Dealership, and start checking off those must-see destinations from your list of things to do in Brunswick.

Travel the Georgia Coast in a New Jeep!
The Georgia coast is filled with fun and exciting places to visit. Jeeping the scenic views of the Peach State can offer a new perspective on life when you cruise the original "Dixie Highway." No matter how you plan to get here, there's something for everyone. If you've been thinking about purchasing a Jeep, there is no better time to buy the model of your choice at our Jeep Dealership in Brunswick! 
Take a look at some of our favorite stops to park your Jeep Grand Cherokee or Gladiator when traveling Georgia's beautiful coast:

Hop off the beaten path and take a tour of Georgia's coastal wetlands. Spanish moss drape the country's eastern border along with over 5 miles of sprawling plantations. Take a charter of the Golden Isles or go rogue in a new Jeep Cherokee!
Brunswick Old Town Historic District  

For your next stop, stroll through Brunswick's Old Town Historic District for a peep into the past when visiting Old City Hall. Rest your legs in the town's many outdoor parks, Signature Squares, and local dining. Into the arts? The Historic Ritz Theater, originally the Grand Opera House, was once a theater for vaudeville and now serves as a movie theater where you can find local art exhibits year-round.
Pinball Palace + Neptune Park
Whether you're driving through in the heat of the summer or watching the fall leaves from your top-down Jeep Wrangler, Brunswick is filled with activities for all-ages. Neptune Park Fun Zone offers an 18-putt mini golf course, water slides, and a kiddie pool for you and your family to cool down! At Pinball Palace, guests can enjoy group rates on their favorite arcade games and more.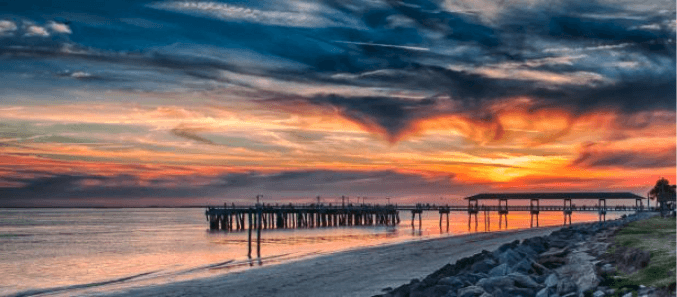 Jeeping without the kids? Try your luck at Brunswick's 4-deck casino cruise ship. Take part in a poker tournament or show off your pipes during karaoke night on a day cruise or an evening cruise along Fancy Bluff Creek through the Brunswick Port.
If the sea is still calling you, there's no need to sell your Jeep Wrangler for a sailboat just yet. The Georgia coast offers a variety of experiences for fishermen and marine dwellers alike. Only a few miles away from Brunswick, Saint Simons is home to some of Georgia's best fishing, bird-watching, and water sport activities. Launch your boat or kayak in one of the many marinas or water-fronts in town. Lastly, nothing beats a sunset on the Georgia coast. End the day with peace and relaxation, and listen to the waves crash on the Saint Simons Island Pier. 
Find Your New Jeep at Chrysler Dodge Jeep Ram Brunswick
Wherever the road takes you, there's a Jeep for you at Chrysler Dodge Jeep Ram Brunswick. We have a wide variety of makes for you to choose from and an expert sales team available to help you pick out the right color, trim, specs, and features you're looking for. Stop by our dealership near Hickory Bluff when traveling the Peach State and take a detour from your everyday routine in a new Jeep today!